About
Welcome to Serralharia Fernando Ferreira

Since 1999 , the philosophy of Serralharia Fernando Ferreira is based on integrity, dedication and respect .

The Serralharia Fernando Ferreira is not like other companies. We provide an individualized service and directed to each customer. We guarantee our customers accuracy , quality and follow-up when needed. We operate in national and international markets . Externally we highlight France as the primary export market . But we have worked even for countries like Angola and Mozambique .

We have carried out the most varied works in iron, welded aluminum , and stainless steel ( brushed and polished ) .

We create the most diverse steel structures, as well as doors, gates , stairs , railings , grills , among others.
Reliability and quality
We guarantee maximum reliability and quality in all the work performed
Monitoring whenever necessary
We ensure the monitoring of all our works , as well as their maintenance , nationally and internationally.
Ease of transport and assembly
We take care of the transportation of the product and perform the installation, depending on the agreement in the order act.
Press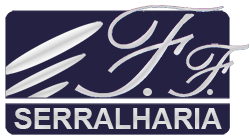 The locksmithing Fernando Ferreira target was an interview by the newspaper JN
Previous
Next